Weekend Update: Iraq- The Good News
While the news media has been repeatedly reporting on the 3 - 5
US casualties
this weekend, the US Military keeps-on, keeping-on (unnoticed). Here is just some of the news that the Associated Press considers "not fit for print" and the main steam media considers "not worthy" of coverage during
their frenzy
to report the bad news from Iraq.
US Troops Kill 4 in Baghdad
From NEWS24- Baghdad 01/07/2007- US troops killed four people and captured a fifth in raids targeting suspected bomb makers in the Iraqi capital on Saturday, said the military.
The four were killed after they fled from American forces and took refuge in a building, where they refused to surrender, the military said in a statement. US troops found a fifth armed man hiding in a ditch and detained him, it said.
The US military also said on Saturday that troops captured an al-Qaeda cell leader in southern Baghdad a day earlier.
The suspect was allegedly responsible for co-ordinating and conducting kidnappings, torture and killings of Iraqi civilians and troops, the military said in another statement.Iraqi forces, backed by US troops, also captured four suspects in raids in Iskandariyah south of Baghdad on Friday, said the military

From
Flopping Aces
"Insurgents" Captured, Weapons Cache Destroyed
.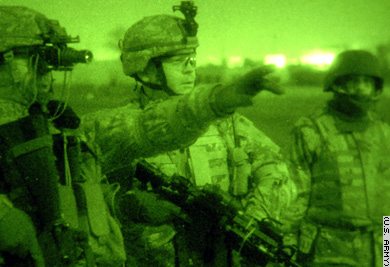 4th Iraqi Army Division Forces, with coalition advisors, captured seven members of an improvised explosive device cell during operations Jan. 6 in Samarra. The suspects are responsible for coordinating and conducting IED attacks against Iraqi civilians and security forces.
Elements of Multi-National Division-Baghdad, along with Iraqi Army elements, conducted a clearing operation designed to disrupt insurgent activities and deny urban support zones to terrorists from Jan. 1 to Jan. 5 in Hurriya, a northwestern neighborhood of the Iraqi capital.

Results:

Detained 16 suspected insurgents

Soldiers confiscated illegal arms to include: 13 rocket propelled-grenade launchers, 17 AK-47's with 20 AK-47 magazines, five rifles, two machine guns, 19 pistols, six mortars, and 12 blocks of C-4 explosives. They also seized three rocket-propelled grenades, two rocket-propelled grenade stabilizer shafts, and six rocket-propelled grenade booster rockets, along with identification cards, maps, insurgent propaganda, and 3.25 million Iraqi Dinar and $2,200 in U.S. currency.

With the support of Task Force 2nd Battalion, 3rd Infantry Regiment, Iraqi troops provided medical care to the local population. Iraqi medics treated and gave medication out to approximately 2,000 Iraqi civilians during this operation.



Soldiers from the 3rd Battalion, 4th Brigade, 6th Iraqi Army Division and Troop B, "Black Hawks," 1st Squadron, 89th Calvary Regiment, 2nd Brigade Combat Team, 10th Mountain Division (Light Infantry) detained 82 suspects terrorists during a combat operation north of Yusufiyah, Iraq Jan. 2.
Coalition forces found and destroyed a cache used for manufacturing and assembling improvised explosive devices in the Ghazaliyah neighborhood in western Baghdad Jan. 5. Soldiers from Company D, 2nd Battalion, 12th Cavalry Division, attached to the 2nd Brigade Combat Team, 1st Infantry Division, found approximately 200 pounds of unknown explosives dispersed between two houses near the Al-Shadra Mosque in Ghazaliyah.

In addition to the 200 pounds of homemade explosives, the Soldiers found washing machine timers, Iraqna cell phone cards, passports, hundreds of blasting caps, time fuses, detonation cords and numerous physics and engineering books.



Soldiers from the 2nd Battalion, 4th Brigade, 6th Iraqi Army Division and Battery A, 2nd Battalion, 15th Field Artillery Regiment, 2nd Brigade Combat Team, 10th Mountain Division (Light Infantry), detained the two suspects during a joint operation west of Mahmudiyah, Iraq. The operation targeted improvised explosive device cells operating near the town. Through intelligence provided by the Iraqi Army, troops worked with local residents of the area to help identify and detain the first suspect detained.
Iraqi national policemen captured four men and seized a sizeable weapons cache at a checkpoint in southeastern Baghdad Jan. 5. Elements of the 3rd Battalion, 6th Brigade, 2nd National Police Division detained four men at a checkpoint in the Hadar neighborhood. The men were detained after illegal weapons and terrorist propaganda materials were found in their cars following a search at the police checkpoint.


The search of the suspects' two vehicles resulted in the capture of a sniper rifle, a rocket-propelled grenade launcher, three assault rifles, assorted ammunition, weapons magazines and bomb-making materials.
During ongoing operations
south of Balad Ruz, Soldiers from the 1st Brigade, 5th Iraqi Army, with support from coalition forces, continue to clear the objective area, targeting specific terrorist cells which historically use the area as a safe haven to conduct random attacks against the local population and maintain a supply base.
The current operations began Jan. 4, with a combined air and ground assault into the area in the outskirts of Turki village. IA and CF Soldiers established mobile and stationary positions along possible escape routes to isolate the area and facilitated the searching of the area for weapon supplies, improvised explosive device-making material and terrorists.
"The terrorists believe we will not attack them in their safe havens and believe they can use these areas to spread violence throughout the region," said Col. David W. Sutherland, 3rd Brigade Combat Team, 1st Cavalry Division commander, and senior U.S. Army officer in the Diyala province. "The 5th Iraqi Army Division believes that we must continue to take the fight to those individuals that use violence against the Iraqi people for their own personal and financial gain. The Coalition Forces will continue to support this Iraqi Force."
Soldiers of the 1st Squadron, 89th Cavalry Regiment, 2nd Brigade Combat Team, 10th Mountain Division (LI) conducted a nighttime raid on a Baghdad meat-packaging facility suspected of being a terrorist meeting place in the Al Rashid district Jan. 7.

The 1st Battalion, 18th Infantry Regiment, 1st Infantry Division concurrently assaulted the salt factory next door, also a suspected terrorist planning area. Joining the two U.S. units on the operation were members of the 3rd Battalion, 4th Brigade, 6th Iraqi Army Division. The two-pronged joint assault netted 32 detainees and more than 20 weapons, including 11 AK-47s, a Kalishnikov assault rifle, two Russian-made carbines, 15 60mm mortar rounds and a submachine gun.

The men detained, some of whom were guards at the building, were held on suspicion that they were allowing the buildings to be used as a terrorist rendezvous point, a suspicion strengthened by the weapons found in the area.
Task Force to help rebuild Iraqi businesses...

A team of 60 industrial leaders and business analysts in Iraq to get 200 idle factories up and running.
Once the factories are opened, the U.S. military will contract with them as much as possible for goods and services supporting U.S. military operations in Iraq. Most of this business, which amounts to about $4 billion a year, currently goes to companies outside Iraq.

Democracy not working in Iraq?
Women
comprise 25% of the Iraqi Parliament, which is the highest proportion in the Arab world and one of the largest percentages worldwide. Go
here
for more good news on the progress being made.
Why isn't this stuff reported?
It doesn't fit the agenda of the mindless, mainstream, moonbat media.
US forces have had several victories in the past few days, but all we hear about is news of more US casualties and more debate about "defeat".
It is obvious these "journalists" may have taken some college courses which help them to
"sympathize with the insurgents"
and believe
"the US troops are the foreign fighters responsible for killing the majority of innocent Iraqi's."
Film at Eleven... and oh yeah, ...
"have a nice day"
.
-red
(Note: images not related to specific stories are for illustration only)
Labels: defeat, denial, insurgents enemy, moonbat media, US troops heroes, victory