See the USA in your... Chevrolet, The Heartbeat of America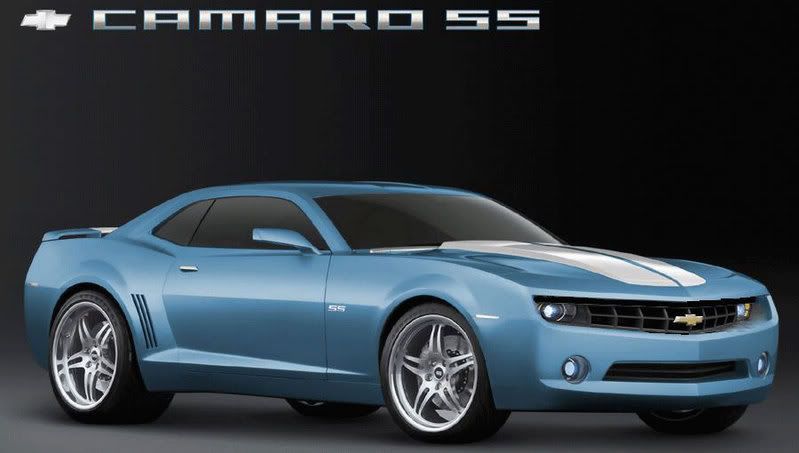 TEST DRIVE
2010 CHEVY CAMARO
If General Motors weathers the financial storm, its Chevy division should begin delivering thousands of new Camaros next spring.
---
THE RUNDOWN
PRICE $22,995 for V6 LS, $30,995 for V8 SS
EPA fuel economy rating 26 mpg highway, city TBA
FEATURES Head curtain/side-impact air bags and front seat-mounted thorax side air bags, power accessories, cruise control, rear window defroster
---
Although some model intros are facing delays, GM, so far, is sticking with its plan to send 2010 Camaros to buyers in the first quarter of 2009.
"The wait is almost over," vows Ed Peper, GM North America vice president for Chevrolet. "The return of the Camaro gives sports-car enthusiasts a reason to rejoice."
A little rejoicing would be nice. There's been so little of that in the automotive industry this year. Party hats were quickly doffed after GM celebrated its centennial, perhaps because some employees recalled that the venerable Oldsmobile brand vanished shortly after its 100th anniversary.
Frankly, an America without GM seems as inconceivable as a country without Coca-Cola. The ad slogans are embedded in our folklore: the "heartbeat of America." Unfortunately, they used that jingle to sell duds like the 1987 Corsica.
For the baby boom generation, it's doubtful that any model is more memorable than the Camaro. Chevrolet's 1967 answer to the Ford Mustang confirmed that "pony cars" were here to stay.
Now that Dodge has its Challenger on the street, it is imperative that the new Camaro be allowed to come out and play.
Camaro might not single-handedly save GM, but it will win hearts and minds. More than 600,000 prospects have requested information on the Camaro since production was announced, Chevy says.
Introducing the car on a television show called "My Own Worst Enemy" might have revealed more about GM's self-image than the Camaro, but it's hard to avoid Freudian slippage when your stock has lost 90 percent of its value and you're asking the federal government to keep your engine running.
The new Camaro is the fifth generation of a model that was sold continuously for 35 years until the 2002 model. The fourth-generation's F-Body platform was retired because of slow sales and plant overcapacity.
Based on the 2006 Camaro concept car, the 2010 model debuts as a coupe built on the Oshawa, Ontario, assembly line. The three trim levels are LS, LT and SS. The LS and LT trim levels will be powered by a 3.6-liter, 300-horsepower V6 that can be linked to an automatic transmission or six-speed stick. The SS is powered by the 6.2-liter, 422 horsepower V8. The RS appearance package will be available on both the LT and SS.
The design originated in the United States and was engineered by GM's global rear-wheel-drive team in Australia.
There's no mistaking the styling as Camaro, with design cues that hearken to the original 1967 model. A long front end and short rear deck reflect classic pony car proportions, and wheels pushed to the corners and buff fender forms present an aggressive stance.
A forward-V shape at the front and "gills" in the rear quarter panels merge with broad rear fender "shoulders" to amplify the Camaro credentials. Buyers can embellish the appearance with 18-, 19- or 20-inch wheels.
The dash also has a retro feel, with deeply recessed instrument binnacles with round gauges in square housings. An optional center-console gauge cluster derives from a similar option on 1969 Camaros. An ambient light package gives the cabin a cozy glow. Cloth upholstery is standard, but heated leather seats are optional.
In designing the power plants, GM engineers aimed for efficiency in addition to the performance Camaro has been known for.
A few months ago, fuel economy might have been a major concern. Now that pump prices are back to where they were before the Iraq war, that issue has vanished from the radar.