The Messiah Float Leads German Parade
From Duesseldorf Germany
... feel free to write your own caption... btw that's 'Europe' hanging onto Obama's dress, no joke.
The Duesseldorf Carnival parade in 2005
The same Parade in Duesseldorf featured this float in 2004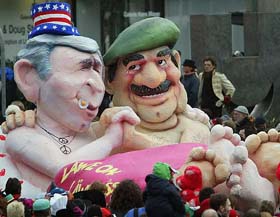 And this gem in 2003.
Gee, all we had to do was roll over and convert to socialism and the entire socialist world is at our feet!
Hmmm, I wonder why they didn't make a float with Bill Clinton and Monica Lewinsky in bed together while Bin Laden is planning the 9-11 attacks from under the bed?