Antonio Gramsci's "Grand Plan" ...Sounds Familiar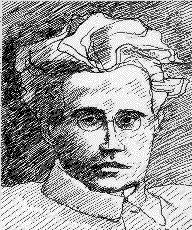 I found this article from 1999 titled
"

Gramsci's

Grand Plan"
.
(Antonio

Gramsci
1891-1937) which is very prophetic if you look around today.
Below are exerts only from
the original Article
at Free Republic.
"Born in obscurity on the island of Sardinia in 1891,

Gramsci

would not have been considered a prime candidate to impact significantly the 20

th

century.

Gramsci

studied philosophy and history at the University of Turin, and soon became a dedicated Marxist, joining the Italian Socialist Party. Immediately after the First World War, he established his own radical newspaper, The New Order, and shortly afterwards helped in the founding of the Italian Communist Party. "
As we shall see

,

Gramsci's

shrewd assessment of the true essence of Marxism and of mankind makes his writings among the most powerful in this century. While

Gramsci

himself would die an ignominious and lonely death in a fascist prison, his thoughts would attain a life of their own and rise up to menace the world.



What are these ideas?
"

Gramsci's

signal contribution was to liberate the Marxist project from the prison of economic dogma, thereby dramatically enhancing its ability to subvert Christian society."


"If we were to take the ideological pronouncements of Marx and Lenin at face value, we would believe — as have millions of their deluded disciples — that the uprising of the workers was inevitable, and that all that was to be done was to mobilize the underclass through propaganda, thereby sparking universal revolution. Of course, this premise is invalid, yet it remained inflexible doctrine among Communists — at least, for public consumption.

However, the hard core of the Communist movement consisted of ruthless criminals, clear-eyed in their understanding of the intellectual errors of Marxism, who were willing to employ any necessary means to obtain the power they sought. For such hardened, hate-intoxicated conspirators, ideology is a tactic, a means of mobilizing supporters and rationalizing criminal actions.


Those who accept uncritically the idea that "Communism is dead" fail to understand the true nature of the enemy. Communism is not an ideology in which one believes. Rather, it is a criminal conspiracy in which one enlists.


In no single instance has Communism ever achieved power by means of any popular revolutionary upheaval, but always by force or subterfuge. The only popular revolutionary upheavals recorded in the 20th century have been anti-Marxist "counter-revolutions," such as the revolt in Berlin in 1954 and the Hungarian uprising of 1956.

Looking back on the 20th century, it is clear that Marx was wrong in his assumption that most workers and peasants were dissatisfied with their places in, and alienated from, their societies, that they were seething with resentment against the middle and upper classes, or that they in any way were predisposed to revolution. Moreover, wherever Communism achieved power, its use of unprecedented levels of violence, coercion, and repression have generated underground opposition at home and militant opposition abroad, making endless killing and repression endemic to Marxism and essential for Communist survival. All of these undeniable facts, when examined honestly, posed insurmountable difficulties insofar as further extensions of Communist power were concerned, and assured some kind of ultimate crisis for Marxism.

While the foregoing is obvious to perceptive observers now, looking back from the vantage point of our time and after more than eight decades of experience with the reality of Communism in power, we begin to understand something of the insightfulness of Antonio Gramsci when we realize that what is evident now, at the close of the millennium, was evident to him when the Soviet regime was in its infancy and Communism still largely untried conjecture.


In the

Gramscian

view workers and peasants were not, by and large, revolutionary-minded and they harbored no desire for the destruction of the existing order. Most had loyalties beyond, and far more powerful than, class considerations, even in those instances where their lives were less than ideal. More meaningful to ordinary people than class solidarity and class warfare were such things as faith in God and love of family and country. These were foremost among their overriding allegiances.

Such attractiveness as Communist promises might possess among the working classes was, moreover, diminished by Communist brutalities and by heavy-handed totalitarian methods. Stirring the aristocratic and bourgeois classes to action, these negative attributes were so terrifying and sobering that militant anti-Marxist organizations and movements sprang up everywhere, effectively putting a halt to plans for Communist expansion. With all of this easily apparent to him,

Gramsci

turned his excellent mind to saving Marxism by analyzing and solving these questions.


Subverting Christian Faith

The civilized world,

Gramsci

deduced, had been thoroughly saturated with Christianity for 2,000 years and Christianity remains the dominant philosophical and moral system in Europe and North America. Practically speaking, civilization and Christianity were inextricably bound together. Christianity had become so thoroughly integrated into the daily lives of nearly everyone, including non-Christians living in Christian lands, it was so pervasive, that it formed an almost impenetrable barrier to the new, revolutionary civilization Marxists wish to create. Attempting to batter down that barrier proved unproductive, since it only generated powerful counter-revolutionary forces, consolidating them and making them potentially deadly. Therefore, in place of the frontal attack, how much more advantageous and less hazardous it would be to attack the enemy's society subtly, with the aim of transforming the society's collective mind gradually, over a period of a few generations, from its former Christian worldview into one more harmonious to Marxism.

Whereas conventional Marxist-

Leninists

were hostile towards the non-Communist left,

Gramsci

argued that alliances with a broad spectrum of leftist groups would prove essential to Communist victory. In

Gramsci's

time these included, among others, various "anti-fascist" organizations, trade unions, and socialist political groups. In our time, alliances with the left would include radical feminists, extremist environmentalists, "civil rights" movements, anti-police associations, internationalists, ultra-liberal church groups, and so forth. These organizations, along with open Communists, together create a united front working for the

transformation of the old Christian culture.





Free Will Slaves





Gramsci

believed that if Communism achieved "mastery of human consciousness," then labor camps and mass murder would be unnecessary. How does an ideology gain such mastery over patterns of thought inculcated by cultures for hundreds of years? Mastery over the consciousness of the great mass of people would be attained,

Gramsci

contended, if Communists or their sympathizers gained control of the organs of culture — churches, education, newspapers, magazines, the electronic media, serious literature, music, the visual arts, and so on. By winning "cultural hegemony," to use

Gramsci's

own term, Communism would control the deepest wellsprings of human thought and imagination. One need not even control all of the information itself if one can gain control over the minds that assimilate that information. Under such conditions, serious opposition disappears since men are no longer capable of grasping the arguments of Marxism's opponents. Men will indeed "love their servitude," and will not even realize that it is servitude.



Steps in the Process

The first phase in achieving "cultural hegemony" over a nation is the undermining of all elements of traditional culture. Churches are thus transformed into ideology-driven political clubs, with the stress on "social justice" and egalitarianism, with worship reduced to trivialized entertainment, and with age-old doctrinal and moral teachings "modernized" or diminished to the point of irrelevancy. Genuine education is replaced by "dumbed down" and "politically correct" curricula, and standards are reduced dramatically. The mass media are fashioned into instruments for mass manipulation and for harassing and discrediting traditional institutions and their spokesmen. Morality, decency, and old virtues are ridiculed without respite. Tradition-minded clergymen are portrayed as hypocrites and virtuous men and women as prudish, stuffy, and unenlightened.


Erasing traditional culture and Values


Crucial to the

Gramscians

' success is the disappearance of all memory of the old civilization and way of life. The older America of unregulated lives, honest government, clean cities, crime-free streets, morally edifying entertainment, and a family-oriented way of life is no longer vivid in the minds of many Americans. Once it is gone completely, nothing will stand in the way of the new Marxist civilization, which demonstrates as nothing else that through the

Gramscian

method it is indeed possible to "

Marxize

the inner man," as Malachi Martin wrote in The Keys of This Blood. Then and only then, writes Fr. Martin, "could you successfully dangle the utopia of the 'Workers' Paradise' before his eyes, to be accepted in a peaceful and humanely agreeable manner, without revolution or violence or bloodshed."



The Frankfurt School

With respect to the subject of the undermining of the American family, and to many other aspects of the Gramscian technique, let us explore briefly the story of the Frankfurt School. This organization of leftist intellectuals, also known as the Frankfurt Institute for Social Research, was founded in the 1920s in Frankfurt am Main, Germany. There it flourished amidst the decadence of the Weimar period, both compounding and feeding off the decadence, and extending its influence throughout the country.

With Hitler's acquisition of the chancellorship in 1933, the leftist stalwarts of the Frankfurt School fled Germany for the United States, where they soon established a new institute at Columbia University. As is characteristic of such men, they repaid their debt to the U.S. for sheltering them from Nazi brutality by turning their attention to what they regarded as the injustices and social deficiencies inherent to our system and society. Immediately they set about devising a program of revolutionary reform for America.

Max Horkheimer, one of the notables of the Frankfurt School, determined that America's profound allegiance to the traditional family was a mark of our national inclination towards the same fascist system from which he had fled. Explaining this connection between fascism and the American family, he declared: "When the child respects in his father's strength a moral relationship and thus learns to love what his reason recognizes to be a fact, he is experiencing his first training for the bourgeois authority relationship."

Commenting critically on Horkheimer's theory, Arthur Herman writes in The Idea of Decline in Western History: "The typical modern family, then, involves 'sado-masochistic resolution of the Oedipus complex,' producing a psychological cripple, the 'authoritarian personality.' The individual's hatred of the father is suspended and remains unresolved, becoming instead an attraction for strong authority figures whom he obeys unquestioningly." The traditional patriarchal family is thus a breeding ground for fascism, according to Horkheimer, and charismatic authority figures — men like Hitler and Mussolini — are the ultimate beneficiaries of the "authoritarian personality" instilled by the traditional family and culture.

Theodor W. Adorno, another notable of the Frankfurt School, underscored Horkheimer's theory with his own study, published in book form as The Authoritarian Personality, which he authored together with Else Frenkel-Brunswik, Daniel J. Levinson, and R. Nevitt Sanford. Upon closer examination, it became apparent to critics that the research on which The Authoritarian Personality was based was pseudo-sociological, flawed in its methodology and skewed in its conclusions. But, the critics were ignored.

America, Adorno and his research team pronounced, was ripe for its own, home-grown fascist takeover. Not only was the American population hopelessly racist and anti-Semitic, but it had far too acquiescent an attitude towards authority figures such as fathers, policemen, clergy, military leaders, and so forth. It was also far too obsessed with such "fascist" notions as efficiency, cleanliness, and success, for these qualities revealed an inward "pessimistic and contemptuous view of humanity," a view that leads, Adorno held, to fascism."
FULL ARTICLE
So I wonder what Antonio
Cramsci
would think if he were alive today about the Obama Administration... considering the left, the Christian left, the subversive subculture and the Democrat party have almost realized his dream "Grand Plan" to perfection... ?
-red