Colorado Rockies On A Tear Under New Mgr Jim Tracy !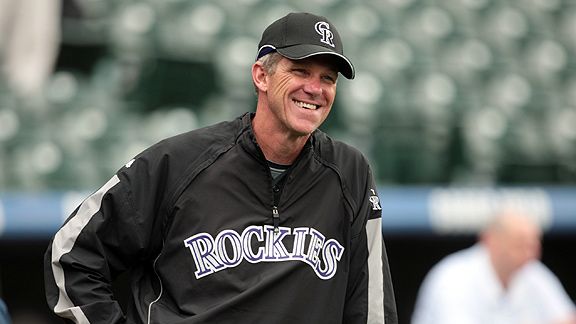 DENVER (AP)
—When Jim Tracy replaced Clint Hurdle as Colorado's manager, GM Dan O'Dowd said he wasn't expecting miracles.
The Rockies were 10 games under .500 and threatening to become irrelevant before June even started.
Surprise!
The Rockies won 19 of their first 24 under their new skipper, including an incredible 17-1 streak that they extended Monday night with an 11-1 win at Anaheim.
The Rockies have set franchise records with nine straight road wins and 17 victories in June.
Tracy likes to deflect credit, but there's no hiding that it took him half as many games to win 18 times as it took Hurdle, who was fired with the Rockies in last place in the NL West at 18-28."I just asked them to play the game correctly. And I've asked them to play the game unselfishly, and I've asked them to get a little bit more aggressive offensively," Tracy said. "And we've done an unbelievable job of that."
"It's nice to show up and go out and expect to win every day,"
second baseman
Clint Barmes
(notes)
said.
Tracy benched slumping third baseman Garrett Atkins(notes) and replaced him with emerging slugger Ian Stewart(notes). Tracy made Barmes his everyday second baseman and he carved out more at-bats for outfielder Carlos Gonzalez(notes), who came over from Oakland in the Matt Holliday(notes) trade that also netted closer Huston Street(notes).
"It's a blast right now," said Street, who converted 16 of his first 17 save chances. "Twenty days ago, not that it was no fun, but we've been waiting for this. We've been saying it, almost ad naseum, to where people were saying, "Uh-huh, you guys are almost there, sure.' But we really felt that and believed it."
The Rockies are playing sound fundamental baseball under Tracy.
They move runners over. They're aggressive at the plate without expanding their strike zones. They're driving opposing starters' pitch counts high early in games. They're fighting off good pitches and when they see a mistake, they make 'em pay.'
Defensively, they're not giving teams extra outs or extra pitches.
And with their starting pitchers going deep into games, their bullpen has finally settled into a good rhythm.
Leading Colorado's resurgence is right fielder Brad Hawpe(notes) and right-hander Jason Marquis(notes) (9-4), who has reached the playoffs in all nine of his major league seasons and has no intention of seeing that streak snapped this summer.
A month ago, it looked like he'd have to get traded to keep that streak alive. Now, the Rockies could just as easily end up being buyers as sellers at the trade deadline next month.
Ryan Spilborghs(notes) said everything's different since Tracy took over and the Rockies started winning.
"The food tastes better. The water tastes better. Your family looks nicer to you," he said. "Everything about baseball on and off the field is a lot more enjoyable."
"It's not like there is a secret magic rabbit that we pull out,"
Spilborghs said.
"We have a group of good people and when you get them playing like they are capable of and not doing more than what they should, you tend to go on streaks like this."